You've seen this ad before: A man standing at a car dealership is shouting at you about how he has the best deals in town. He's rattling off prices as fast as an auctioneer, while numbers flash across the screen. When the ad is over, you don't remember the car he's selling or the prices, just how loud and obnoxious he is.
Later, you see a different automotive ad online. It's longer and more educational, a full motion video showing off the car's interior and exterior as well as desirable key features. There's no loud voice over. The video focuses on the benefits of the car rather than a talking head salesman.
Which ad do you think is going to better capture the viewer's attention? Most likely the second one, which is shot from the consumer's point of view and explains how the car is designed to meet the consumer's needs. The focus is completely on the consumer - not the dealership. In recent years automotive advertisers have moved towards buyer-focused selling as market research increasingly shows that this approach is more effective among today's consumers.
The Changing Consumer
Although there is a still place for traditional media advertising, consumer culture is changing. In fact, all buying is changing. It's progressively becoming more and more driven by consumer research. We spend less time shopping in person and more time shopping online. Today's consumers are the first generation in history who have the ability to research products online before making a purchase. This especially applies to buying a car. Most people won't even step foot into a dealership before researching several models online. Purchasing a car is a large expense for most consumers, so it's important to them that they really understand the car's features before they sign on the dotted line.
In fact, 89% percent of potential buyers would prefer to go online to watch longer informational videos that show the features and benefits of a vehicle rather than watch traditional automotive ads on TV. Furthermore, a study by Tremor Video found that 66% of auto shoppers think online video is important in their buying process.
What Does This Mean for Car Dealerships?
Traditional auto advertisements with shouting salesmen and flashing prices are losing credibility with consumers who are becoming more research driven and are seeking informational videos that communicate the benefits of the car in more detail.
As the sales process continues to increasingly take place online, buyers have less of a need to visit multiple dealerships or test drive different cars. The average buyer only visits 1.5 dealerships and 56% of buyers test drive only 1 vehicle or less. Therefore it's very important to make online videos and commercials that are engaging, educational, and effective with your audience - or else risk falling behind your competition.
5 Ways to Make Your Automotive Videos More Effective
1. Focus on key features of the vehicle
When someone is looking to purchase a car, they are usually interested in the qualities of the car that make it useful and desirable to them. Price is obviously important, but buyers want to learn as much as they can before deciding whether to go to a dealership. That's why it's great to highlight the car's key features throughout the video.
Below is a good example of a feature-focused automotive ad:
This video from Volvo of Vancouver exemplifies a modern approach to a dealership advertisement. Notice the salesperson is not the focus of the video. Rather, the car takes precedence and the salesperson provides a fairly detailed walk-through of the car's features, giving the viewer a basic idea of what it would be like to own the car. This is a stark contrast to traditional dealership ads that mostly focus on pricing. The vehicle's qualities - and NOT some "amazing new discount offer" - are showcased here and used to engage the viewer.
2. Make an emotional connection with consumers
Here's another example of an effective Volvo ad with millions of views. This one uses an "everyday" scenario to emotionally connect with viewers.
Using 360 degree video technology, this ad visually places consumers at a campsite with a Volvo parked close by. By putting consumers directly into the scenario, Volvo is allowing them to envision the car as part of their everyday lives, which helps to induce an emotional connection with the car. Connecting with viewers using real-life scenarios is a powerful selling strategy, and can greatly increase buyers' interest in a product.
3. Develop walk-through videos
Another way automotive advertisers can engage with consumers is to create full motion walk-through videos. These videos are typically longer and more immersive, giving consumers a simulated experience of riding in the car. They are also inexpensive to produce and are often hosted on Youtube.
Speaking of Youtube, the popular video-hosting site has billions of users and generates 35% of all internet watch time. This is good news for car dealerships, especially since, according to Google, 70% of car buyers who watch YouTube videos are influenced by what they are watching, which is a staggering number. Another plus for dealerships is that Youtube allows you to target particular locations so that your videos are being seen by buyers in your region.
4. Develop how-to videos
In addition to walk-through videos, you should also be creating How-To videos on YouTube that focus on the service your dealership offers. Videos on how to change a tire, oil, antifreeze, etc...are not only extremely helpful for consumers, but also show off your expertise, and will make customers feel secure in purchasing a vehicle from you.
One of the best ways to see whether your automotive videos are effective is by testing them. Dumbstruck is an award-winning research and analytics platform that uses machine learning technology to test the effectiveness of video ads.
Dumbstruck recently conducted a video study examining how voiceover style affects how viewers respond to automotive commercials. One-hundred people from various demographics signed up to participate in the study -which was completed in less than a day - and the results showed the voiceover style largely impacted how people responded to the commercials. One of the most interesting findings was that a certain demographic greatly preferred one voiceover style to another.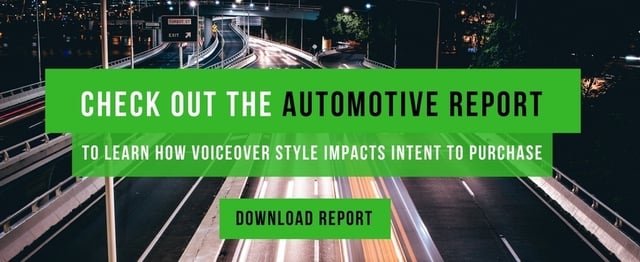 Testing different voiceover styles in your videos is an excellent way to help you make the most effective ads for your target audience, and ultimately drive more sales.
Quick Tips for Creating an Effective Auto Ad:
Craft your video around the features and benefits of the vehicle. Keep it consumer-focused.

Be specific on the qualities that make the vehicle stand apart. Take the time to educate your audience on the benefits instead of focusing on price and status.

Show, don't tell them how the car works. This will demonstrate your expertise and your professionalism.

Create video content that will connect with viewers' emotions.

Effective videos not only educate your audience, they also help to build a relationship with them, which is important. Frequently communicating with your audience through informational, consumer-focused videos is one of the best ways to connect with them and stay fresh in their minds without being "overly-salesy".
Best Social Networks to Advertise Your Dealership
Facebook
Facebook Advertising allows you to target local areas and zip codes. Just keep in mind that shoppers are often on Facebook for social connection and are not necessarily going there to find information on a car. It's more important to capture their interest on Facebook than closing a deal. Always include a link to your webpage in your ad so people can research more about your dealership and the cars you sell. Learn more about Facebook Advertising here.
Instagram
A recent study found that millennials are leaving Facebook for Instagram. It's also an inexpensive platform to promote your dealership because you can simply create a free account and build a follower base. Since Instagram is based on pictures, it's a popular place for consumers to research the cars they're interested in. This gives car dealerships an opportunity to share pictures that allow consumers to place themselves inside the car, and doing something they love such as taking a road trip or parking at a drive-in movie theater. Dealerships can tailor their photos to target consumers, and further entice them by showing short videos of the car's features.
Cashing in on the New Age of Auto Buyers
According to a new Cisco study, 80% of all online traffic will become video by 2019, thus it's now more important than ever to embrace online video and to include it as part of your automotive advertising strategy. Gone are the days when consumers would spend hours at dealerships test driving cars. Customers in 2017 want their shopping experience to be as efficient and painless as possible, as evident by the extraordinary boom in online shopping and product research.
One major ramification of the online shopping boom is that consumers are bombarded by unsolicited advertisements from every direction, causing many people to tune them out. Therefore, the most effective way to attract auto buyers is to offer them a unique online experience that both educates and entices them to visit your dealership. Simplicity and a genuine attempt to inform customers will naturally attract them to your dealership.
Leave the gimmicks for the dying dealerships and focus on creating content that truly connects with people. Utilizing video walk-throughs on Youtube and creating at least a small following are a necessity. In 2017, it's your consumer-focused, informational videos that are going to grow your automotive business.